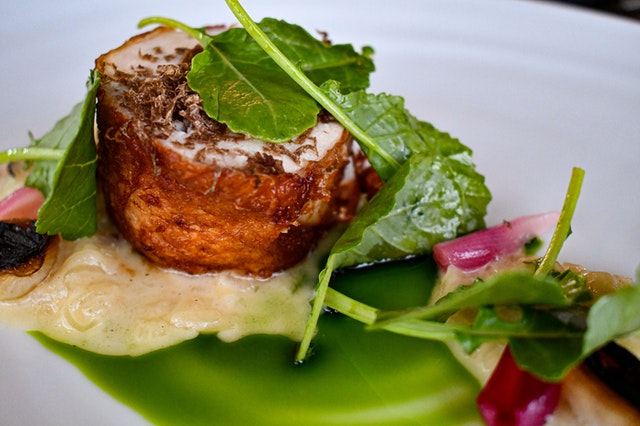 Many people who do not eat pork on principle choose to roast chicken. This dish is made in an almost identical way, but it has a totally different taste. A big advantage is that you don't have to brown the chicken roast in the pan first. It is important to grease it with butter or olive oil before putting it in the oven. It is advisable to turn the meat every 5 minutes. This way all the juices can be preserved. Most people do this at about 70 degrees. When the meat is well browned you can preheat the oven to 180 degrees. This is usually done and then the chicken about 45 minutes in it. This way it cooks well on the inside. As with the classic rolled roast you put it in the aluminum foil for 10 minutes when the oven is ready. This ensures a nice tender and juicy piece of meat.
Chicken roast in gravy
When you want to roast a chicken roast in gravy you have to make sure that you melt enough butter. When the foam of the butter has disappeared you can put the chicken roast in it. Turn it with the meat tongs until all sides are the brown color that you like best. Depending on the weight of the chicken roast, it should cook on low heat. This is usually between 30 and 60 minutes. When this is done you can loosen the bumps and add wine for the gravy. You can let it boil down carefully so you get a delicious gravy. The chicken roast itself you place in the aluminum foil so that it can cook a little more. Usually it takes about 10-20 minutes and this also depends on the weight. Then you can cut the roast and serve it with a nice bowl of gravy.
Why people love this dish
For people who are a real lover of chicken it is a must to roast a chicken roast. It is a dish that is mainly eaten during easter or christmas. However, you can usually buy it all year round at the butcher or supermarket. For the people who have a little more money to spend it is a dish they make once a week. Often it is a weekend dish because it has to be special. If you eat it too often it will lose its taste. However, you can find many recipes on the internet and make it in a different way every now and then. This way you keep variation in one of the most delicious pieces of meat in the world.
Recipes for Chicken Roast
Most people nowadays choose to fry a chicken roast in butter or olive oil. If you want to watch the calories, olive oil is much healthier. It is wise to take the roast out 30 to 60 minutes before the roast is ready. This way it can get to the right temperature and this will improve the taste. More and more people choose to prepare their roast in the oven so it will be just right. At a low temperature you can give the chicken roast the brown touch in the oven. Then you finish it at 180 degrees for about 35 to 60 minutes depending on the size of the piece of meat. You can even choose to your taste what spices you use for this. Most people choose the ready made roast or chicken mix. But you can also just add salt and pepper to give a little more spice to this meat.
Here's why people choose to roast a chicken roast
There are more and more people who choose to roast chicken roast. This is because there are also plenty of people who do not want or are not allowed to eat pork. In addition, it is a totally different taste which is also nice for a change. You do not need much seasoning because this meat has a strong chicken flavour of its own. Also it is something you can eat with the whole family because who does not like chicken? One serving suggestion is to serve it with baked potatoes or potatoes in the skin. Most people like to eat a hard vegetable with a bite. Think for example of parsnips or carrots. For dessert it is nice to serve something sweet. Think of a tasty tiramisu or vlaflip. In the end it is up to you what you like.
You can make these variations
Lately, more and more people choose to roast a chicken roast. An example is the delicious variation with potatoes in the skin and vegetables from the oven. If you are a small family or have a large oven, you can make the whole dish in an oven dish. You start by cutting up the vegetables. Then you fry the chicken roast in a frying pan or in the oven. Then you put everything in the oven dish and add water and a stock cube. Add enough water so the vegetables won't overcook. The vegetables will taste a bit of the juices from the chicken roast. In the summer you can also prepare this on the barbecue. Then it is nice to do this with a fresh salad, possibly filled with potatoes. So you always have enough to eat!
Why roast chicken is preferred to the pork version
Roasting a chicken roll is often chosen over a rollade for the bite of the meat. Chicken has a much firmer structure which people like to eat. In addition, chicken is something that everyone likes. Another important reason is that people do not eat pork for religious reasons.
An authentic way to roast a chicken roast
You kutn the chicken roast with butter in the pan. When it is brown after about 5 to 10 minutes place a lid on it. Then you let it stand for about 35-60 minutes depending on the weight. The last step is to put it in the aluminum foil for about 10 to 15 minutes to let it finish cooking. Then you can cut the meat and serve it on a nice dish. Many people eat potatoes and vegetables with it. You can choose what you like best with it.